>
Home
>
Religious Liberty Updates
Supreme Court Case - Groff v. DeJoy
Supreme Court Delivers Unanimous Landmark Victory for Postal Carrier
Decision means fewer religious employees will have to choose between their faith and their job.
In a unanimous decision announced on Thursday, June 29, 2023, the Supreme Court of the United States granted a victory to former postal carrier Gerald Groff after Groff lost his job for observing the Sunday Sabbath. The decision strengthens legal protections for employees seeking religious accommodations, such as schedule changes to observe holy days, by requiring employers to provide accommodations unless doing so would result in substantial and burdensome costs in light of the size of the employer.

In its holding, the Supreme Court held that lower courts have been getting it wrong for the past fifty years in interpreting a past precedent to impose only a minimal burden on employers, although stopping short of outright reversing the prior precedent, TWA v. Hardison.

The decision means more employers will be required to take seriously their employees' religious accommodation requests. Employees of faith often seek religious accommodations to honor their holy days, to take prayer breaks during the day, to dress according to their religious beliefs, or to otherwise not be forced to violate their religious beliefs on the job.

Mr. Groff was represented, in part, by Alan Reinach, Executive Director of the Church State Counsel: "The Supreme Court's unanimous decision is a resounding victory for religious freedom. No longer will employers be able to dismiss religious accommodation requests as they have been doing all too often, assuming such discrimination comes with little legal risk" said Reinach. "Instead, workers of all faiths will no longer have to leave their faith at home when they go to work."

In response to the decision, Gerald Groff said, "I am grateful to have had my case heard by the U.S. Supreme Court and that they have decided to uphold religious liberty. I hope this decision allows others to be able to maintain their convictions without living in fear of losing their jobs because of what they believe."
Click here to listen to All Gods People interview
Click here to listen to Alan J. Reinach's interview with Connie Hagen 
Click here to download the merits brief pdf.
Click here to read the article from First Liberty.
Newsweek Article • Supreme Court Can Restore Religious Liberty Protection in the Workplace | Opinion
by Alan J. Reinach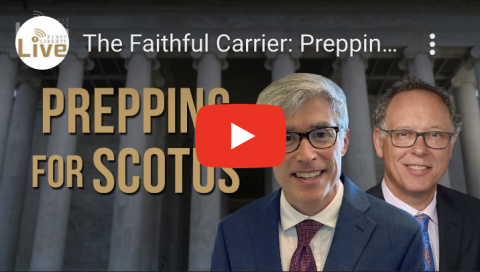 ​The Church State Council represents Gerald Groff, whose religious accommodation case is providing the Supreme Court with a once in a generation opportunity to shape civil rights laws to benefit millions of Americans who do not wish to leave their beliefs and practices at home when they go to work. Nor should they have to do so. Many Americans participate in regular weekly religious meetings, such as Bible studies, worship in a church, synagogue, mosque, etc., observance of a Sabbath, or even choir practice. Many others express their faith in their dress and appearance, by wearing a beard as part of their religion, or a head covering.

Groff was a part time mail carrier, a rural carrier associate, in Lancaster County, Pennsylvania, when he lost his job because he would not deliver Amazon packages on Sunday, in violation of his observance of the day as a Sabbath. He suffered interminable reprimands and disciplines for not working on Sunday, even though his postmaster was readily able to schedule others to m
ake the needed deliveries.

Since 1972, Federal law has required employers to "reasonably accommodate" the religious beliefs and practices of their workers, but in 1977, the Supreme Court held they are excused if the accommodation would cause even minimal hardship, even though the federal law set the standard as "undue hardship." As a result, every workday, Americans are losing their jobs for the "crime" of practicing their faith, forced between obeying God and making a living.

Religious freedom lawyers have been seeking to change this standard for about three decades. Way back in 1997, a coalition of religious groups led by the American Jewish Committee and the Seventh-day Adventist Church introduced a bill in Congress to fix this. Known as the Workplace Religious Freedom Act, the bill has gone nowhere, although several  states enacted their own statutes to clarify that the standard of undue hardship is "significant difficulty or expense," including New York, New Jersey and California. The Church State Council, was instrumental in drafting and securing passage of a California Workplace Religious Freedom Act in 2012. This bill also clarified the obligation to accommodate religious dress and appearance.

In January, the Supreme Court decided to take the case of Gerald Groff v. Louis DeJoy, postmaster general of the United States Postal Service. Because the Third Circuit U.S. Court of Appeals decided that the postal service would suffer an undue hardship if it relieved Groff of any obligation to work on Sundays, the issue squarely before the court is what does "undue hardship" really mean? How can an "undue hardship" be reduced to a minimum amount of hardship? A second issue is to what extent do added burdens on coworkers constitute an undue hardship on the conduct of the business, which is what the statute requires.

Mr. Groff has been represented by Seventh-day Adventist attorney Alan J. Reinach, Executive Director of the Church State Council. "The Supreme Court has a golden opportunity to provide clear guidance to employers that they really do have to accommodate the religious needs of their workers, unless they really cannot do so," said Reinach. "The ruling has potential to impact millions of workers, restoring the promise of equal employment opportunity for Americans of all faiths."